Клініко-економічний аналіз застосування тієнаму в терапії нозокоміальної пневмонії
Ключові слова:
карбапенем, іміпенем/циластатин, економічна ефективність, клініко-економічний аналіз
Анотація
Проведено порівняльний клініко-економічний аналіз застосування іміпенему, дорипенему, та меропенему в лікуванні нозокоміальної пневмонії методами "мінімізації витрат" та "витрати ефективність". Дослідження економічної ефективності з перспективи держави та перспективи пацієнта показало перевагу призначення іміпенему/циластатину у порівнянні з іншими карбапенемами. Застосування у пацієнтів з нозокоміальною пневмонією в якості стартової емпіричної терапії іміпенему/циластатину (препарат Тієнам) дозволяє досягти високої клінічної ефективності лікування у поєднанні з економічною ефективністю затрат та економити до 29-36% витрат на антибіотикотерапію меропенемом та дорипенемом.
Посилання
Фещенко Ю.І., Дзюблик О.Я., Перцева Т.О. та іти. (2005) Нозокоміальна пневмонія у дорослих: діагностика, лікування та профілактика (методичні рекомендації). Укр. хіміотерапевтичний журнал, № 1-2, с.95-112.
Chalmers J.D., Taylor J.K., Singanayagam A. et al. (2011) Epidemiology, Antibiotic Therapy, and Clinical Outcomes in Health Care-Associated Pneumonia: A UK Cohort Study. Clinical Infectious Diseases, 53(2): 107-113.
File T. (2010) Recommendations for Treatment o f Hospital-Acquired and Ventilator-Associated Pneumonia: Review of Recent International Guidelines. Clinical Infectious Diseases, 51(Sup.l.):42-47.
Martin S.J., Yost R.J. (2011) Infectious Diseases in the Critically 111 Patients. Journal o f Pharmacy Practice, 24(1):35 - 43.
Esperatti M., Ferrer M., Theessen A. et al. (2010) Nosocom ial Pneumonia in the Intensive Care Unit Acquired by M echanically Ventilated versus Nonventilated Patients. American Journal of Respiratory and Critical Care Medicine, 182:1533-1539.
Бекетов A. C. (2003) Сравнительная фармакоэкономическая оценка схем антибиотикотерапии госпитальных инфекции. Автореф. канд...канд.мед.наук. М: 27с.
Eagye К., Nicolau D., Kuti J.L. (2009) Impact of superinfection on hospital length of stay and costs in patients with ventilator-associated pneumonia. Semin. Respir. Crit. Care Med., 30(1): 116-123.
Karaoglan H., Yalcin A., Cengiz M. (2010) Cost analysis of ventilatorassociated pneumonia in Turkish medical-surgical intensive care units. Le Infezioni in Medicina, № 4, 248-255.
Dietrich E.S., Demmler M., Schulgen G. et al. (2002) Nosocomial pneumonia: a cost-of-illness analysis. Infection, 30(2): 61-67.
Sipahi O.R. (2008) Economics of Antibiotic Resistance. Expert Rev. Antiinfect. Ther., 6(4): 523-539.
Rosenthal V.D., Guzman S., Migone O. et al. (2005) The attributable cost and length o f hospital stay because o f nosocomial pneumonia in intensive care units in 3 hospitals in Argentina: a prospective, matched analysis. Am. J. Infect. Control, 33(3): 157-161.
Yalcin AN. (2003) Socioeconomic burden of nosocomial infections. Indian J. Med. Sci., 57(10):450-456.
Нозокомиальная пневмония у взрослых (Национальные рекомендации) (2009) под ред. акад. А.Г. Чучалина. Клин.микробиол. антимикроб.химиотер, 11(2): 100-142.
Проценко Д.Н., Ярошецкий А.И., Яковлев С.В. и др. (2005) Протокоя лечения нозокомиальной пневмонии: эффективность внедрения. Пульмонология. Прил. к журн. Consilium Medicum, № 1, С .И -13.
Rello J., Ulldemolins M., Lisboa T. et al. (2011) Determinants of prescription and choice of empirical therapy for hospital- acquired and ventilator-associated pneumonia. Eur. Respir. J., 37(6): 1332-1339
Guidelines for the Management o f Adults with Hospital-acquired, Ventilator-associated, and Healthcare-associated Pneumonia (2005). Am J Resp Crit Care Med., 171, 388-416.
Masterton R., Galloway A., French G. et al. (2008) Guidelines for the management of hospital-acquired pneumonia in the UK: Report of the Working Party on Hospital-Acquired Pneumonia of the British Society for Antimicrobial Chemotherapy. Journal o f Antimicrobial Chemotherapy, 62, 5-34.
Paterson D.L., Rice L.B. (2003) Empirical antibiotic choice for the seriously ill patient: are m inim ization of selection o f resistant organisms and maximization of individual outcome mutually exclusive? Clin. Infect. Dis, 6(8): 1006-1012.
Глумчер Ф.С., Макаров A.B., Дубров C.A. (2003) Профилактика и лечение послеоперационной пневмонии. Клінічна хірургія, №4- 5, с. 15-16.
Клінічний протокол надання м едичної допомоги хворим на негоспітальну та нозокоміальну пневмонію у дорослих. Додаток до Наказу МОЗ №128 від 19.03.2007.
Allegranzi В., Luzzati R., Luzzani A. et al. (2002) Impact of antibiotic changes in empirical therapy on antimicrobial resistance in intensive care unit-acquired infections. J. Hosp. Infect. 52(2): 136-140.
Drusano G.L., Lodise T.P., Melnick D. et al. (2011) Meropenem Penetration into Epithelial Lining Fluid in M ice and Humans and Delineation of Exposure Targets. Antimicrob. Agents Chemother, № 55, 3406-3412.
Nicolau D. (2008) Carbapenems: a potent class of antibiotics. Expert Opin. Pharmacother, 9(1), 23-37.
Lodise T.P., Sorgel F., Melnick D. et al. (2011) Penetration o f Meropenem into Epithelial Lining Fluid of Patients with VentilatorAssociated Pneumonia. Antimicrobial Agents and Chemotherapy, 55(4): 1606-1610.
Rahal J. (2008) The role o f carbapenems in initial therapy for serious Gram-negative infections Critical Care, 12 (Suppl 4): 5-12.
Santos S., Machado F" Kiffer C. al. (2001) Treatment of Nosocomial Pneumonia: An Experience with Meropenem. The Brazilian Journal of Infectious Diseases. 5(3): 124-129.
Белобородов В.Б., Грувер К.П. (2010) Карбапенемы в современной клинической практике. Русский медицинский журнал, №17, 1037- 1042.
Стецюк О.У., Андреева И.В. (2008) Современные принципы антибактериальной терапии тяжелых и жизнеугрожающих бактериальных инфекций. Фарматека, № 4,12-17.
Rea-Neto A., Niederman М., Lobo S.M. et al. (2008) Efficacy and safety of doripenem versus piperacillin/tazobactam in nosocomial pneumonia: a randomized, open-label, multicenter study. Curr. Med. Res. Opin, 24(7): 2113-2126.
Яковлева Л.В., Бездітко H.B., Герасимова O.O. (2009) Фармакоекономіка. Вінниця: Нова книга, 208 с.
Drummond М., Sculpher М., George W. et al. (2005) Methods for the Economic Evaluation of Health Care Programmes. Oxford: Oxford University Press, 400 p.
Baldwin C., Lys eng- Williams on K., Keam S. Meropenem. (2008) A Review of its Use in the Treatment o f Serious Bacterial Infections. Drugs, 68(6): 803-838.
Kollef M. (2010) Review o f Recent Clinical Trials of HospitalAcquired Pneum onia and V entilator-A ssociated Pneumonia: A Perspective from Academia. Clin. Infect. Dis, 51(Sup.l.): 29-35.
Галкин Д.В. (2007) Карбапенемы через 20 лет после открытия: современные микробиологические и клинические аспекты. Клин.микробиол. антимикроб. химиотер, 9(2): 133-152.
Mouton J.W., Touw D., Horrevorts A. et al. (2000) Comparative Pharm acokinetics of the Carbapenems. Clin. Pharmacokinet, 39(3): 185-201.
Zhanel GG, Wiebe R, Dilay L et al. (2007) Comparative review of the carbapenems. Drugs, 67:1027-1052.
Мэндрик E.A. (2009) Фармакоэкономический анализ антибиотика Дорибакс методом «анализ влияния на бюджет». Ліки України, 8( 134): 102-107.
Chastre J., Wunderink R., Prokocimer P. et al. (2008) Efficacy and safety of intravenous infusion of doripenem versus imipenem in ventilator-associated pneumonia: a multicenter, randomized study. Crit.Care Med., № 36:1089-1096.
Barry S., Steven J., Geckler R. et al. (1997) Empiric treatment of hospital-acquired lower respiratory tract infections with meropenem or ceftazidime with tobramycin: A randomized study. Critical Care Medicine, 25(10): 1663-1670.
Lo T.S., Borchardt S., Welch J. et al. (2009) Doripenem in hospital infections: a focus on nosocomial pneumonia, complicated intraabdominal infections and complicated urinary tract infections. Infection and drug resistance, № 2, 41-49.
Bretonnie(re C., Jacqueline C., Caillon J. et al. (2010) Efficacy o f doripenem in the treatment of Pseudomonas aeruginosa experimental pneum onia versus imipenem and meropenem. J. Antim icrob. Chemother, 65: 2423-2427.
Koomanachai P, Tiengrim S., Kiratisin P. et al. (2007) Efficacy and safety of colistin (colistimethate sodium) for therapy of infections caused by multidrug-resistant Pseudom onas aeruginosa and Acinetobacter baumannii in Siriraj Hospital, Bangkok, Thailand. International Journal o f Infectious Diseases, №11: 402-406.
Глумчер Ф.С., Дубров C.A., Кучин Ю.Л. (2010) Полирезистентная инфекция.Часть 2. Лечение (обзор литературы). Біль, знеболювання і інтенсивна терапія, №1, с. 55-72.
Choi E.Y., Huh J.W., Lim С.М. et al. (2011) Relationship between the MIC of vancomycin and clinical outcome in patients with MRSA nosocomial pneumonia. Intensive Care Med., 37: 639-647.
Haque N.Z., Zuniga L.C., Peyrani P. et al. (2010) Relationship of Vancomycin Minimum Inhibitory Concentration to Mortality in Patients With Methicillin-Resistant Staphylococcus aureus HospitalAcquired, Ventilator-Associated, or Health-care-Associated Pneumonia. Chest, 138(6): 1356 - 1362.
Харченко Л.А., Глумчер Ф.С., Проскурякова Н.Б. и др. (2009) М икробиологический мониторинг резистентности микроорганизмов в отделениях интенсивной терапии Украины. Біль, знеболювання і інтенсивна терапія, №2. с. 5-20.
Torres A., Bauer Т.Т., LeonGil С. et аі. (2000) Treatment of severe nosocomial pneumonia: a prospective randomised comparison of intravenous ciprofloxacin with imipenem/cilastatin. Thorax, 55(12): 1033-1039.
Jaccard C., Troillet N., Harbarth S. et al. (1998) Prospective random ized A 207-23 com parison of imipenem-cilastatin and piperacillin-tazobactam innosocomial pneumonia or peritonitis. Antimicrob. Agents. Chemother, 42(11): 2966-2972.
Zanetti G., Bally F., Greub G. et al. (2003) Cefepime versus imipenem/ cilastatin for treatment o f nosocomial pneumonia in intensive care unit patients: a multicenter, evaluator-blind, prospective, randomized study. Antimicrob. Agents. Chemother, 78(6A): 47-53.
Berman S.J., Fogarty C.M., Fabian T. et al. (2004) Meropenem monotherapy for the treatment of hospital-acquired pneumonia: results of a multicenter trial. Merrem Hospital-Acquired Pneumonia Study Group. J. Chemother., 16(4): 362-371.
Аптека on line. - [Электронный ресурс]. - Режим доступа к сайту http://www.pharmbase.com.ua
Державна служба статистики України- [Электронный ресурс]. - Режим доступа к сайту http://www.zakon.nau.ua.
Березняков И.Г. (2006) Клиническое применение карбапенемов: когда, какой, как долго? Клин, микробиол.антимикроб.химиотер, №4, с. 325-348.
Merchant S., Gast С., Nathwani D. et al. (2008) Hospital Resource Utilization with Doripenem Versus Imipenem in the Treatment of Ventilator-Associated Pneumonia. Clinical Therapeutics, 30(4): 717- 733.
Власов В.В. (2001) Введение в доказательную медицину, М.: МедиаСфера, 392 с.
Straus S.E., Richardson W., Glasziou P. (2005) Evidence Based Medicine (3rd Edition). Churchill Livingstone, 320 p.
Rodloff A.C., Laubenthal H.J., Bastion A. et al. (1996 ) Comparative study of the cost-/effectiveness relationship of initial therapy with imipenem/cilastatin in nosocomial pneumonia. Group study. Anasthesiol. Intensivmed. Notfallmed Schmerzther, 31(3): 172-180.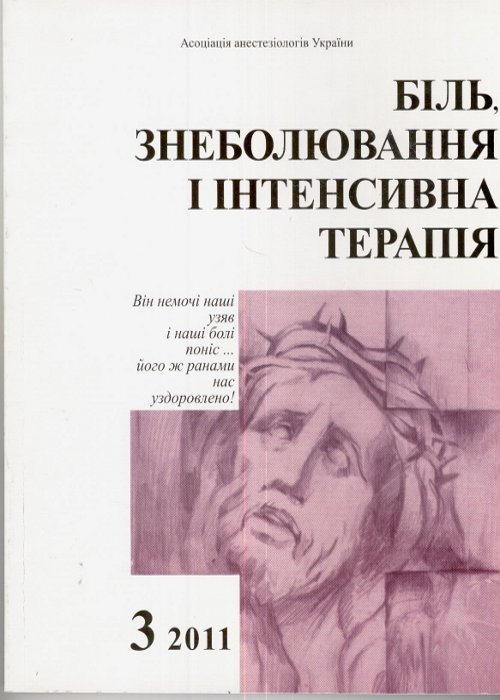 ##submission.downloads##
Як цитувати
Бездетко, Н. В., Глумчер, Ф. С., & Дубров, С. О. (2011). Клініко-економічний аналіз застосування тієнаму в терапії нозокоміальної пневмонії. PAIN, ANAESTHESIA & INTENSIVE CARE, (2(56), 57–64. https://doi.org/10.25284/2519-2078.2(56).2011.109106
Ліцензія
Авторське право (c) 2011 Н. В. Бездетко, Ф. С. Глумчер, С. О. Дубров
Ця робота ліцензується відповідно до Creative Commons Attribution-NonCommercial 4.0 International License.
Автори, які публікуються у цьому журналі, погоджуються з наступними умовами:
a. Автори залишають за собою право на авторство своєї роботи та передають журналу право першої публікації цієї роботи на умовах ліцензії Creative Commons Attribution-NonCommercial 4.0 International License, котра дозволяє іншим особам вільно розповсюджувати опубліковану роботу з обов'язковим посиланням на авторів оригінальної роботи та першу публікацію роботи у цьому журналі.
b. Автори мають право укладати самостійні додаткові угоди щодо неексклюзивного розповсюдження роботи у тому вигляді, в якому вона була опублікована цим журналом (наприклад, розміщувати роботу в електронному сховищі установи або публікувати у складі монографії), за умови збереження посилання на першу публікацію роботи у цьому журналі.
c. Політика журналу дозволяє і заохочує розміщення авторами в мережі Інтернет (наприклад, у сховищах установ або на особистих веб-сайтах) рукопису роботи, як до подання цього рукопису до редакції, так і під час його редакційного опрацювання, оскільки це сприяє виникненню продуктивної наукової дискусії та позитивно позначається на оперативності та динаміці цитування опублікованої роботи (див. The Effect of Open Access).